My friends have been asking me why is my blog always look so dark, dull and emo. The previous two layouts are mostly in black (sorry no picture), compared with the blog layout way before, a totally
pink blog
, sort of have a huge differences. So I decided to change my blog's layout again, to a more simpler version. Shouldn't be too emo now right?
Anyway, a little update about my life. On Wednesday, I received a card from the post office telling me that I have a parcel awaiting for me. I knew the parcel mom sent me is finally here but too bad the post office has already closed when I discovered the notice. So I decided to go today, after my class and production meeting.
And here it is! My parcel, I was too excited to open it and had forgotten to take a photograph of it beforehand. Anyhow, I have a shot of the stuffs my mom sent me. The most important thing I was looking forward to get from here was my 50mm f/1.8 lens! And the remote control for my camera. I was so happy to see these two item to arrive safely. First thing I did was to check if it's working, to make sure it's not spoiled.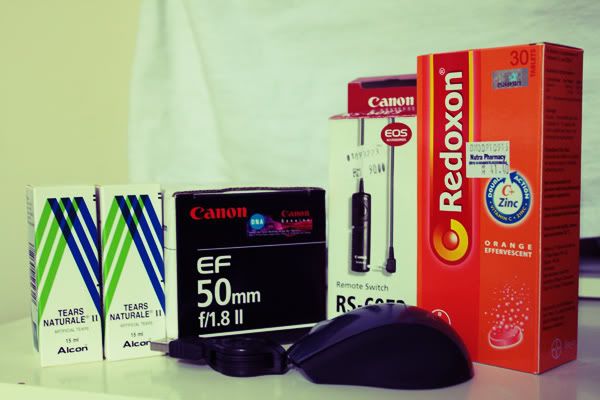 As you can see, my mom did send along Redoxon (a kind of Vitamin drink), an mouse and two bottles of eye drops. Thanks for fulfilling my wish mom!
Wanted to show more picture of the camera lens I got actually, but for some reason, 10 out of 18 photographs I took gone corrupted. So I just have to stick with one.
Anyways, hope you guys have a great day ahead as I should not be wasting more time on my blog already! Take care!