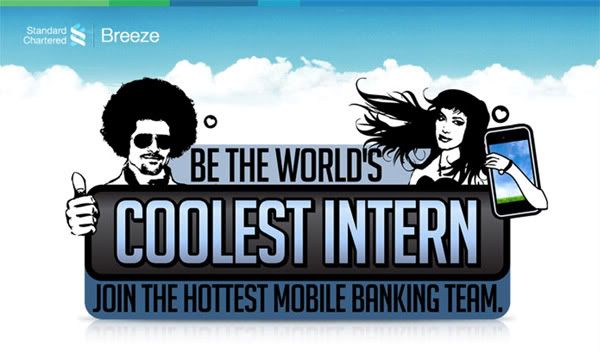 The title says it all, Standard Chartered Bank is currently looking for the 'World's Coolest Intern' to join their Breeze mobile banking team in Singapore. I'm not sure if I can get it but I'm taking my chances. Here goes!
I can probably start by briefly introducing my situation. I'm a Malaysian student currently studying in Adelaide, Australia. I'm currently persuing a Degree of Bachelor of Arts (Communication and Media Management) - a 3 years degree, which offered by the University of South Australia.
Knowing that I'm graduating in the next 2 months, I'm trying to search for jobs opportunity or internships and I happened to come across Nuffnang's "
Be the World's Coolest Intern with Standard Chartered Bank
" post entry. Since I'm searching for a job, I thought,
"why not just give it a try even though I might not stand the chance to get it? No harm trying"
and hence this post entry.
My laptop will always be switched on every morning and the first few tabs can be seen on my browser will be 'Facebook', 'Twitter', 'Gmail', 'Yahoo! mail', Uni's email (Microsoft Outlook) and my blog. So I guess I've actually did meet some of the criteria listed, didn't I?
I will be happy enough if I get the job as it's just a 6 months internship in Singapore. Reason?
Well, as I'm still considering of further pursuing my Master course but I don't want to do it right after graduating from my Degree. I would like to have some working experiences before continuing my Master program.
Secondly, I never been to Singapore, and I believed that I can make a good use of this opportunity.
Thirdly, I've been staying in Australia, meaning I can take good care of myself and am independent enough for most of the thing. I believe I can adapt to the environment and culture easily too.
If 'being hardworking', 'ask lots of questions when facing problems' and 'trying to fulfill every instruction given' are considered 'Cool', then I guess it means that I'm cool! Hence, I can also be one of the 'World's Coolest Intern'! You just need to give me the opportunity for me to prove myself.
I've had work for Taylor's University College as Student Helper and Student Ambassador while studying there in 2007-2009 and had volunteered myself in some events organized by big organization in Australia (2010) if this adds some good points to myself.
Anyway, I'm done taking about myself. Thank you.
Take care people! And wish me luck!