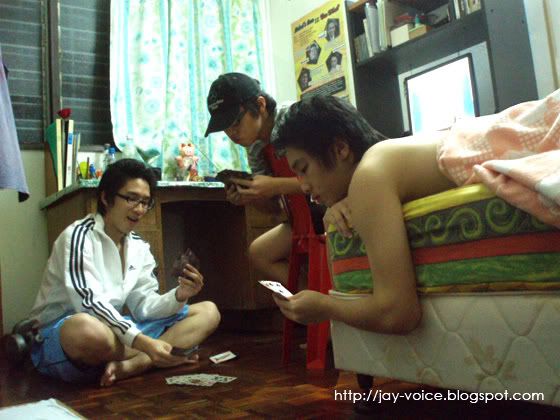 Today I'm gonna introduce my brothers to all of you. I was extremely bored and don't know what to do, lazy to go online and watch movie as I have been doing it everyday throughout my holiday, so I gather up my siblings and had a card game instead.

Do you know I have a twin brother? Now let me introduce them to you, the one who wears a cap with green stripe shirt is my twin brother, he is just a few second younger than me and his name is Justin.

The other one who is topless lying on the bed is my elder brother name Jesse. He is one year elder than me. And the one who is wearing a white jacket and blue pants is me. My sister, who is a camera shy, decided to stay behind the scene and help us take this photo.

Very lovely right?

Anyways I feel like trimming my hair soon, or should I go for bald?