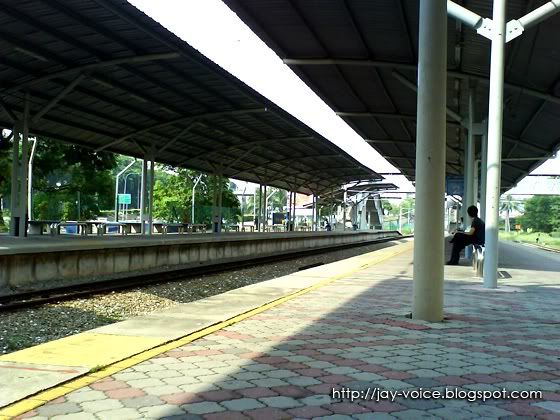 WooHoo! Assignment's done and my semester is officially over! I need a job, anyone hiring? Preferably some job relating my course, hopefully I get it.
I was happened to be in college today after coming back from Mid Valley, setting up for the Education Fair tomorrow. Yes, I'll be working this weekend during the Education Fair. Come look for me if you want, spot me around Taylor's College booth.
I took the KTM home from college today since I was not allowed to drive to Mid Valley. As usual, I need to go through Carrefour and that is when I encounter this (possibly conned) incident.
As when I walking directly under the red hot sun, a (/an Indian) guy stopped me and he was asking me whether am I a student from Taylor's College. Later he kept asking me whether I am taking Computing, Hospitality or any other courses. I told him I was a Communication student and then he started his story:
According to him, he was from North India (or somewhere else) and he came to Malaysia, LEGALLY, a month ago. However, the Immigration Officer treated him as one of the illegal immigrants and sent him to one of the detention centre, beaten him up (he showed me his upper arm wrapped with bandage), took all his money and his cell phone. Leaving him his empty wallet with a picture of Jesus and his daughter, together with a Cross necklace.
He kept assuring me (by showing me the Cross necklace and the picture of Jesus in his wallet) that he was not lying and he was trying to prove himself that he used to work opposite my campus, taking care of the cars at the temporary car park. He told me that he needs some money (about RM 8 something) to take the KTM back to his wife and daughter.
The tone of his voice was very pitiful, as though he was about to cry. I did not think too much that time, and I felt bad if I just ignore him at the moment. I gave him RM10 and refused to provide him any information for him to contact me (even though he asked for my number). I only told him my name as he insisted for it, so that he can pray for me.
I've been bothered by this incident. I don't know whether I am doing a good deed or not? Or whether is he telling the true? It will be very stupid if he was telling a lie, it means I'm easily being cheated. But if he is telling the truth, then I will feel disappointing towards the Immigration Officer, how can they treat people like him that way?
I chose to help him, never know what might possibly happen to me. If you were me, what will you do? Was I wrong giving him RM 10? I don't know myself.