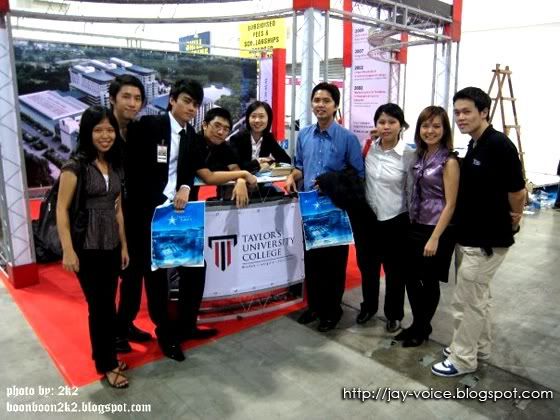 I've been waited long for this photo from Boon Seong, since he was the only one who brought a camera during the Napei Education Fair and was so passionate in photography. Got to know a few new friends during this fair, and met some of my high school friends too. The feeling was quite different as compared to the previous fairs I've worked before.
Guess what is the reason I requested to work for all education fair? Meeting new people and get to know more friends was one of the reasons. As for your information, I like making new friends. Friends are indeed important especially when you are out in the world alone, they can help you and encourage you whenever you need, and that's what I think and believes what a friend can do for you.
Communicating, convincing and helping out by giving information to the parents is the other reason why I like to be in education fair. Especially those friendly and open minded parents, I like talking with them. And when you see them smile back to you, and say thank you in a very sincere manner, you will feel the achievement and happy too!
I don't know whether you understand what I am saying here, but this is just how I feel as a Student Helper. That's why I always (well, used to) work for Taylor's College, as a student helper.
p.s. NAPEI actually stands for National Association of Private Educational Institutions.
p.s.s. I might start signing into my MSN in July, after not depending on it for 2 months time.