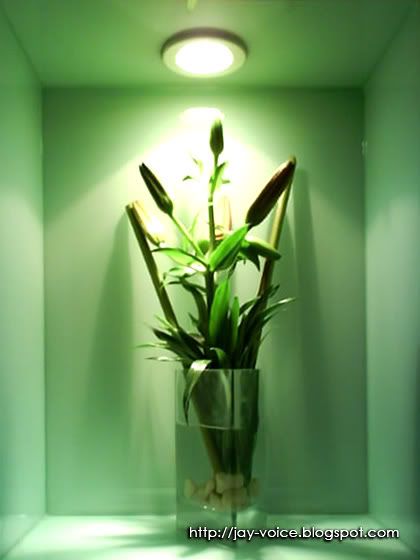 I finally got to go out yesterday, with a valid reason, that is to celebrate Sabrina's birthday. This was a pre-celebration though since June is leaving Malaysia on Tuesday to Finland and she will be missing Sabrina's birthday.
I only found out yesterday evening that my mom's car was out of patrol, so instead of being a gentleman fetching Sue Keng to June's residence, I got her to be the driver instead. Jyn Weii and Sabrina were already at June's house happily chatting with her parents when Sue Keng and I arrived. We left to KL after a short chat with auntie and uncle. This time, Jyn Weii became the driver.
Our first stop, Lowyat Plaza. June wanted to buy a new camera for herself, and after long discussion she bought the Canon Ixus 110 IS as recommended by Yao Wei. It was already 8pm by the time we got back into the car and everyone was hungry, so our final destination, Bermuda & Onion at Changkat Bukit Bintang.
To me, the food there was just nice. Eatable but perhaps doesn't suite my taste, I was having slight stomach ache after dinner. However the place is quite nice and I believe it will be a great place to hang out with your friends.
Went to June's place for a Wii session before going home, since there were some accidents out there along the way to Subang Jaya, we decided to stay a bit longer before leaving. I got home around 1.45am and as usual, even with a very valid reason for such occasion (reaching home late), I will still get some nagging from my mom and silent treatment from my dad.
They always expect me to stay home, never like me going out. >=(
p.s. Should I cut my hair? Or should I just trim it?