If you asked me hows my life recently, I would say bad. I'm now under attack in many way by different torturous method! Say for instance, in physical, something bad happened inside my mouth; emotionally, due to the amount of assignments.
I had an ulcer on the lower part of my lip. It used to be a small one, a tiny dot with still managed to provide powerful pain senses to me, so I decided to apply some Chinese medicine instead of letting it be. From pass experience, I will ignore it and let it torture me for a few weeks sometimes even for a month as Mr Ulcer visits me quite frequent (around 12 times a year!). However this time, instead of leaving it aside, I've decided to cure it before it starts attacking me.
Unfortunately, it grew bigger the next day and it's useless to do anything now. All I need to do is wait. Patient plays a major role here now! Painful lah~
Besides that, both sides of my upper gum has something wrong with it. It started bleeding 2 to 3 days ago, especially after I brushed my teeth. Now both of the area became so fragile and it keeps bleeding once a while, especially when I accidentally hurt it. I wonder what makes it become like that. When it is not bleeding, I will just feel the pain, as if the blood is trying to rush out from my gum. Will I be ended up loosing blood and get low blood pressure? (what am I talking about?)
Picture above was taken before all these physical problems attack me. Thought I look good in this picture with my double eye lid. The hair was flat due to long hours of wearing a cap, which I've removed it for the "photo taking session".
Please don't get me start on my emotional problem. Assignments is just killing me and I guess this is why I am feeling so lazy to do it. I even thought of skipping class today but luckily I did not follow what I felt to do.
I wonder why we as Communication Media Management student need to study about Journalism subject. Yes I understand that everyone needs the basic of journalism knowledge as we might be ended up doing write-up for our future company, but not to that extend please! We have been taking journalism subjects since semester one and not only me, I belief the whole class is feeling quite angry about it.
First assignment for Journalism Ethics requires us to do at least 4 interviews and write a Hard and a Soft News article. I do have my own sources but I am afraid it's not enough for me to write a total 1000 words of news. (500 words each)
First assignment for Introduction to Film and TV Production is due on the following Monday and I have lots of things to settle before that. I hope I can manage it well.
I am so sorry, I don't mean to have such long entry. But I need to find a way to vent my problems out. My gum is giving me so much pain and trouble!
Since the title said "Back with News!" Of course there are good news as well! Remember the entry My Future Plan
Part 1
and
Part 2
? I've stated that I want to study overseas in Adelaide, Australia. Guess what?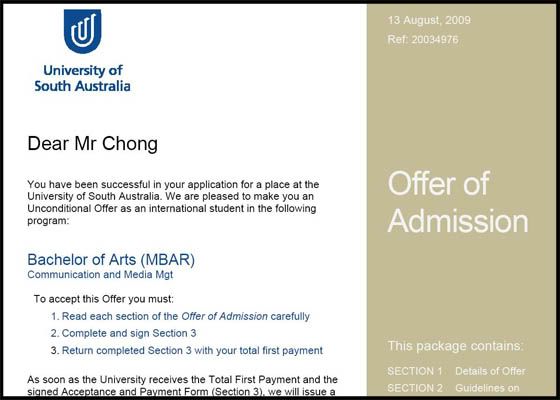 I've got my offer letter! I actually got it on the second week of August and thought of sharing it in my blog. But unfortunately I don't have the time to do so. Since I've been missing for a week, thought this will be one good news to share with everyone here =)
So how people? Planning to celebrate with me or not? Hahahaha! Need to tell me in advance you know? For your information, I am like the Prince and I need to do a proposal to the King and Queen in order to get the pass out. Do book your reservation 2 weeks in advance. Thanks for your cooperation.
To those who might probably miss me:
Do feel happy for me since I will be degraded to be a normal teenager like you, I will no longer be a prince when I am in Adelaide, at least for a year! You guys can still celebrate my birthday before I leave though. Hahaha!
What a coincident right? 21-year-old is supposed to be the independent year for most teenager and I am flying away to obtain my independent! Yippie! Cheer with me my friends!!
Hip! Hip!! Hooray!!!
p.s. Got to go start doing my assignments now!