Going to Jogoya is always a dream for me as I like Japanese food and I heard that this place has a lot of fresh, high quality and nice Japanese food (and other cuisine as well). Furthermore, it is served in buffet style, which mean I can go walk around and choose whatever I want to eat. The reason why I said going to Jogoya is a dream of mine is because I heard that it is quite expensive to dine-in over there. I heard we have to pay about RM 80 per person prior entry. Moreover, the restaurant is located at Starhill Gallery, which caters to high class and rich people especially. So what can a commoner, like me, do in Starhill without money? Walk and take picture like a 'mouse deer went into a village' or act like a jacoon? So nope, I never been into Starhill, ever, in my life, until today...
Yes ! I finally get to step into the gallery and get to dine-in at my dream restaurant. You can say it's a dream come true ! Yeah ! And also, something really nice and special happened today, on me and one of my friend and I am quite happy with this even though I am suppose to be feeling guilty. But whatever la, I did not do it on purpose so I just take it happily la !
Mun Suet asked me to be her partner for lunch in Jogoya last week. According to her if you go with a partner it will be cheaper, which means we are paying RM 60 instead of the normal rate. I guess this is meant for couples but who cares? Since I worked part time for Biotherm and I will get my salary soon, I decided to be her partner and went there together with two of her friends, Robin and Jasmine for lunch.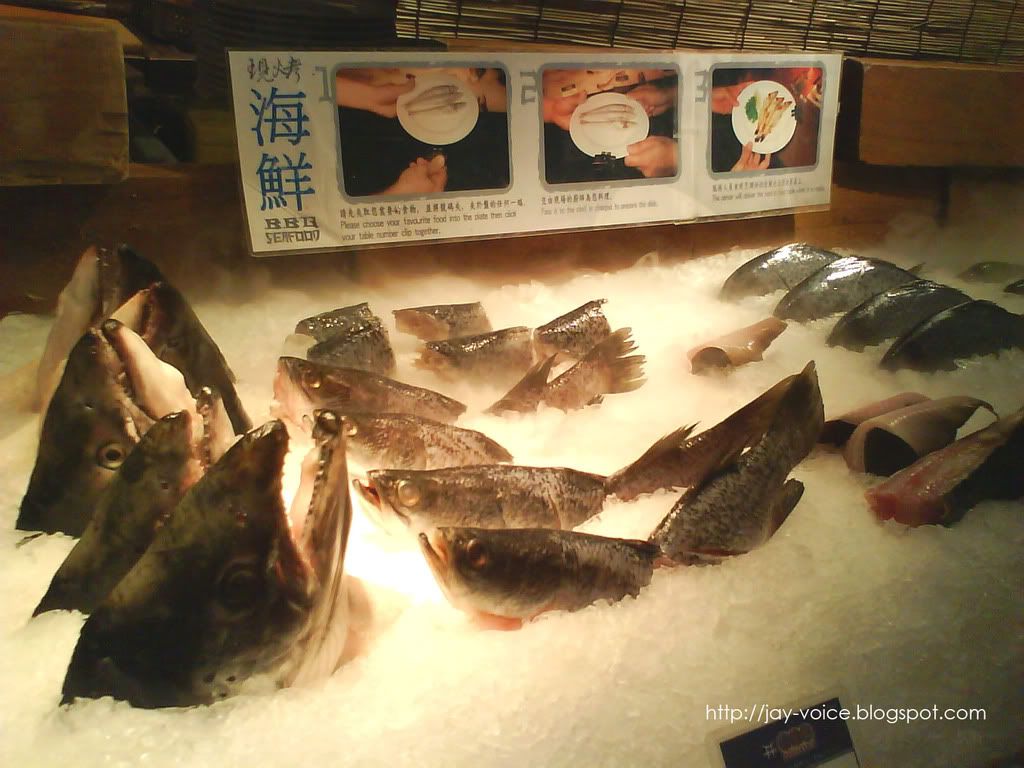 Too bad some of them can't make it for this lunch gathering, otherwise I can bet that they will enjoy themselves very much. The restaurant is just like a food paradise. Verity of food from different range can be found here. From sushi to sashimi, cawan mushi to dim sum, herbal soup to curry soup, ice-cream to Chinese herbal jelly, fresh coconut juice to wine... You name it, they have it ! Even if you are a vegetarian, you will definitely get to find something to eat, so don't worry !
Look at that ! Crab meat with cheese, baked tomato, and roasted clams. And did you see the yellowish colour thinggy on the clams? Guess what's that. GARLIC ! Yea man, it tasted so nice, just like garlic bread you can eat from Pizza Hut. Ish, I am missing the food now, wish I can be 'rich' and visit the place again.
Remember I mentioned that you can find wine here too? But of course, you have to follow the rules and regulation and one of it is you must be above 18 years old in order to consume it. I'm already pass 18 so I am eligible for it, haha ! Oh yea, a friendly reminder by the management, which is 'if you are pregnant or trying to get pregnant', please don't drink it lo, otherwise next time your baby will come out drunk ! Just kidding~
Being myself. I asked Mun Suet to take a picture of me being emo, lonely, and EMO. Haha, like I was dumped by someone important not long ago, and went to pub alone, drinking white wine. Will this ever happen to me? I wish not !
NOTE: Picture taken by my phone's camera, quality is not that good in dark area.

So have you Jogoya-ed? Go try it out ! I bet you will like the place too. Otherwise, please do not hesitate to complain it to the management and give them tips to improve themselves. Haha, cheers !