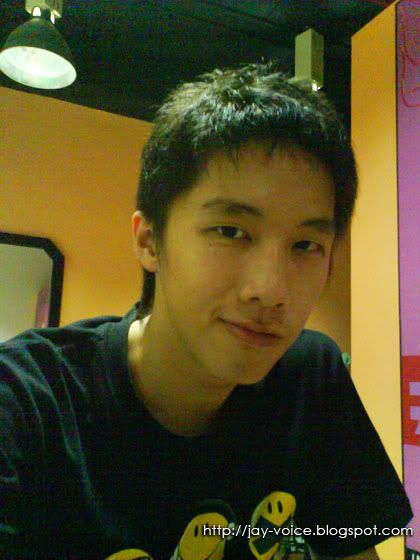 Nope, obviously I did not change my blog layout this time. Observe carefully and you will notice that I've already had my hair cut. And based on my previous experience, once I had my hair cut, it definitely looks fabulous but after that, it will look sucks. So without thinking, right after I had my hair cut, I took a picture and this is the very first shot! 

Clearly that the other shots are not as perfect as this otherwise I would have posted it up, but what do you think about it based on this picture, I think I look cool (of course, I mean the picture, not the real person). 

What? You don't remember how I looked like before my haircut? Well,
click here
for the before and after look and compare if you like to. 
I don't feel like interacting with anyone recently, maybe it's just because of my holiday. Remember how I was 'disconnected' from the world during my past holiday? Yea, I am going to do that again. I am not going to pick up any calls or reply any SMS (my phone might probably be left unattended or in silent mode), not signing in MSN nor Google Talk (I might leave it on while I'm away) or whatnot.

Unless it's an emergency, you will never see me in MSN. Do send me SMS or e-mail if you need help or something, if I happen to read your message, of course I will reply/help since that's what I consider 'emergency'. Sorry for that, just feel like relaxing my life, meh~

Anyways, I might be going to college next week, so if you want to look for me, you can probably try your luck in the college library, I might happen to appear in one of those rooms.

Before I leave, let me make a few announcements:
It's my aunt's Birthday today! Though she was away earlier, I still managed to give her a birthday hug before I leave.
HAPPY BIRTHDAY
Aunt
Mary Ah Yee
! (She will definitely kill me if she reads the word 'aunt', niahahahaha!)
It will be
my sister
's birthday in another 4 minutes. I would like to wish her
HAPPY BIRTHDAY
too, hoping she gets to go out (with my help of course) tomorrow and at least have some special brother-sister moment, or even get to do whatever she wants on her birthday. 
It's also Mothers Day! Would like to take this opportunity to wish
my mom
HAPPY MOTHERS DAY
! May you look/feel/be young forever and let me lean on you like a cute kitten whenever I want but never gets any slap from you. Hope you able to enjoy your day =)
Not forgetting
every mother in the world 
(representing your sons and daughters)
, 
HAPPY MOTHERS DAY
!!!