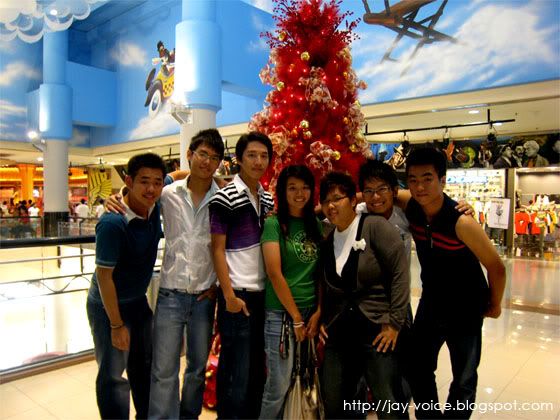 Picture of me and my Leo friends.
Saw the girl in the middle who wears a green tee? She's Mun Suet, and you know what? Today is her Big Day! Happy Birthday girl! 1 year older now, but don't worry, I will not reveal your age, since it's like a secret for all females. *grins*

Anyways, the title above doesn't relates to Mun Suet's birthday, but my result. Should I or should I not check my result? I know I've done it badly, but I don't want to ruin my holiday (even though it will not effect too much on my mood, but when I think about it, of course I will be sad), I am afraid that I will fail my subjects! 

Chatted with Winnie just now, she told me that only 2 out of 4 of the result were out. Means, even if I check it now, I need to come back and check it again for the other 2 remaining subjects. Might as well wait for everything to come out and check it all at once? I am scared la~

I know, I should have more confident on myself, but I don't have that hope and faith within me, I don't trust myself!!! C'mon, I know myself better than anyone of you do, my limit, my strength, my everything! Arrgghh~ I just feel like giving up.

Again, what's the point of giving up? I still have to continue studying! Without a certificate, I am nothing! I can die, unless I be a gigolo to work for food, but look at all the wounds and scratches all over my body, who wants me? LOL. (and I am not going to humiliate myself this way, even though this is also consider an occupation, I know I can do better than that!)

On top of that, I have my dream to chase. A dream that my parents will definitely don't like it. But I will just give it a try, after my degree. Some people should know what is that, but I am not revealing here. It's not a cool or big dream like how people dream to be a model or celebrity (even though I hope I can be one of those but definitely I can't), but at least, I have a dream =D

So, I guess I should check it now right? Since I can't keep my mood happy first, and suffer later? I am so a loser! I am always being the GREAT for some 'reasons', without those 'reasons', I am not worth a cent! 

Sad life... sad sad life.

p/s: do I look great in that picture?