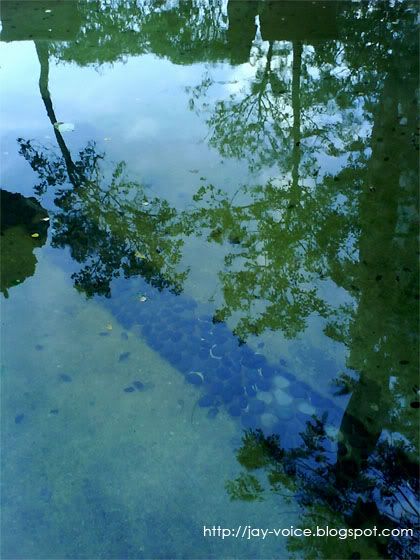 This time, I am seriously sad. Feel very down and not in the mood for anything. However, assignments still have to be done and I can foresee myself with deep dark panda eyes. I am going to find ways to reduce the panda eyes problem during the holiday.

I don't know. I just feel kinda bored and exhausted with my current life. Quite sick being the shadow of other people, but I realised I can't really live on my own, that's the ironic part.

Yes, people do say life is like roller coaster as it fills with ups and downs but I found out that my life is not that challenging. At least not as challenging as those who are in my age. Now I feel like I am a physically 19-year-old but mentally 9-year-old super ultra ordinary college kid with nothing much interesting in life. Thanks to the protections given.

Now I feel like cutting myself away from people, isolating myself, being just me, alone. But of course this is not possible to be done. As I know I will go psycho if I really, seriously and totally stop communicating with others or stop myself from using the net. I just can't. So only my phone will be shut down these few days.

I can't help but to agree with the point I raised long time ago. That if you want to survive in this cruel world, you must have this three special element: Money, Look, Power. Without these special element, it's kinda hard to stay in this reality society. Besides that, you must not be too nice to anyone as they will make use of your "niceness", and take you for granted. Plus, you must be smart in playing with tactics to archive anything in life. 

Too bad. I am not such person. Not special elements, and neither good in playing with tactics. So I will never survive in the realities. I need to change, for the better of course. However, being too nice, is my biggest weakness. Sometimes, I don't even know whether am I doing the right thing or not, for being so nice and knowing people are taking it for granted.

Tell me my fellow readers. I am not good in writing, at least not as good as those famous blogger. What makes you stay, read and comment on my blog?

Let's talk about Friendster. Before this I put a picture or myself, which is not quite attractive and after a few months no one add me or message me, nothing. But when i changed to other better looking picture, there will be people adding me up once in a blue moon and keep telling me that I am handsome and interested to know me more. You see, look's important !

Prove me wrong if you don't agree.

So sorry, the mood of writing had gone. I am kinda lost and don't feel like writing more already. Enjoy your day.

------------------------------(updated)------------------------------

For your information I don't like (or more like don't know how) to download movies, videos, musics whatever it is, I just don't download. And now since I am having a major mood swing, can anyone please tell me where can I find soft, sentimental, blue, emo kind of songs? I prefer those soft music or songs which somehow you can only listen it while you are on the way to heaven, peaceful. Sorry for the exaggeration. Uncertain why, I think these songs manage to clean and heal my wound, and I just like it. Examples of songs probably like Gregorian's Close My Eyes Forever or Enya's Everning Falls. These are my kind of genre. So can anyone help? Perhaps you can send it through MSN or something?